Paul Wolfowitz promotes bimbo girlfriend, gets caught
April 12, 2007
Washington, D.C. - Paul Wolfowitz, World Bank President, has apologized for "mistakes" made over the promotion and massive pay of an ex-colleague with whom he is romantically involved.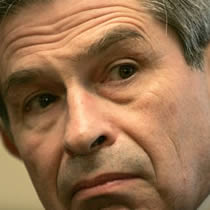 Wolfowitz's girlfriend, Shaha Riza, was moved to the State Department when he took the Bank's top job in 2005.
But the bank's staff association says she then received pay rises and promotions which were "grossly out of line" with the Bank's staff rules.
The controversy comes ahead of joint World Bank and IMF spring meetings.
Wolfowitz also said he would accept any remedy that the World Bank's Board proposed.
The bank chief - formerly US deputy secretary of defense - has adopted a fiercely anti-corruption stance.
The latest furor threatens to undermine Wolfowitz's hypocritical campaign to combat corruption and poor governance.
Responsibility
Until now, Wolfowitz has said he took "full responsibility" for the case, but said it was being left to a committee "that is dealing with it and I am comfortable with that".
But on Thursday he said: "I made a mistake, for which I am sorry."
Riza had been a high-ranking communications employee at the bank working in the Middle East section.
When Wolfowitz took over at the Bank in mid-2005, Riza - then a Bank employee for eight years - was transferred to work for the US State Department, to avoid any conflict of interest.
© AlaskaReport News
---